EU airlines must pay compensation for delays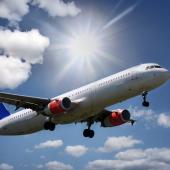 (Reuters) - European Union airlines must pay compensation for delayed flights unless the delay was caused by circumstances beyond their control, the bloc's highest court said.
Travellers should be recompensed for delays of more than three hours, the European Union Court of Justice ruled on Tuesday, reaffirming a right established three years ago in a case involving Air France.
The ECJ was ruling in one case involving German carrier Lufthansa and a second involving British Airways, easyJet, TUI Travel and the International Air Transport Association (IATA).
Passengers on flights operated by EU airlines starting or ending in the 27-nation grouping are entitled to 250-600 euros for delays or cancellations under EU rules.
"The Court of Justice has confirmed its previous ruling that passengers whose flights have been delayed for a long time may be compensated," it said. It did not say what circumstances leading to a delay might be beyond an airline's control.
The European Consumer Organisation said the EU's executive arm should do more to reinforce passenger rights.
"In the long run, the European Commission needs to set this and similar recent judgments in stone in its ongoing review of the regulation," said BEUC Director General Monique Goyens, referring to the 2004 EU rules.
"Keyhole surgery is needed, not dramatic reform. The main challenge is enforcing what already exists. They also need to withstand what is quite robust industry pressure to dilute the law."
Raymond Veldkamp, the owner of Flight Delayed which helps consumers seek compensation from airlines: said "We do not expect the ruling would make it any easier for passengers to get money from the airlines when their flights are delayed.
"Most of the time, passengers get fobbed off with vouchers for a free meal or a refreshment. While in reality they are legally entitled to a much higher compensation."
In the Lufthansa case, passengers sued the airline for compensation in a German court after a flight delay of more than 24 hours. Judges subsequently sought advice from the ECJ.
In the second case, British Airways, easyJet, TUI Travel and IATA, challenged Britain's Civil Aviation Authority after it rejected their request to be exempted from paying for flight delays. British judges also asked the ECJ for guidance.
Earlier this month, the ECJ told airlines to compensate travellers bumped off flights because of strikes, saying that was not a good enough excuse not to pay up.
The cases were C-581/10, Nelson and others vs Deutsche Lufthansa AG, and C-629/10 TUI Travel and others vs Civil Aviation Authority. (Editing by Dan Lalor and Erica Billingham)
source: reuters.com